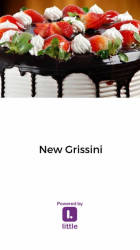 This deal might be expired!
Get the deal - New Grissini : 25% Off on Any Cake You Buy!
Highlights
Brand - New Grissini
Manufacturer - New Grissini
Product Details
MRP : Rs 400 You Save : Rs 100
Product details:
Product Type - Lifafa
Brand - New Grissini
Product Code - DEANEW-GRISSINILITT739299E3D
About the merchant - Celebrate all occasions here! Drop by New Grissini, located in Jadavpur for amazing cakes and bakery items. They focus on catering to the needs of the customers and will never leave you disappointed!
What You Get - New Grissini bakery in Kolkata offers wonderful snacks and desserts and caring staff to look after you. Buy any cake from the menu of Rs. 400 and pay Rs. 300
City - Kolkata
How To Redeem - How to Redeem
In Detail - Valid for dine-in & take-away. Timings: 10 am to 10 pm. Inclusive of all taxes and service charges. Cannot be combined with other offers. Providing voucher code is mandatory to avail the offer. Bookings/reservations and amendments are subject to availability. Voucher will expire on the deal end date. Refund cannot be processed if not availed before this date.
Conditions for Validity - Valid until midnight of 06/30/2016
Return Policy - This product cannot be returned or replaced once delivered.