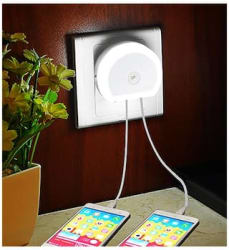 Smart Lamp with Charger AC220V Night Light Dual USB Phone Charger
3 Views
|
Verified on 24/06/2019
Use promocode - BIJLIBILL150. Minimum cart value should be more than Rs.100
Use promocode - MALLRECHG150. Get 3 Mobile Recharge Vouchers of Rs.50 each
Use promocode - MALLMOVIE450. Get 3 Movie Vouchers of Rs.150 each
Use promocode - BUY15. Get 15% Cashback Maximum Upto Rs.5000.
Shining-India Lighting is a very large professional light / lamp / bulb/ LED sellers. We focus on lighting for over 10 years. All of our products are directly supply from the factory;Let products directly from the factory to the buyer;effectively eliminate the increase of all dealers so that buyers can profit. As we are one of the largest lighting suppliers;so can we offer whatever you want at the best price as long as it involves lighting. If you want to buy any lighting products;just come to our store. It is really a wise choice which does not need a moment s hesitation because our store s products are very rich;comprehensive and affordable. If you still suspect;just click here to get surprise. EXACT BRIGHTNESS : Bright enough to make sure you never stumble in the dark and prevents or reduces risk of tripping and falling. Soft white glow guides you through the night.Conveniently avoid hassle of turning on lights TWO MODES :There are two modes for plug-in night light. Light and Charger Mode or Only Charger Mode. Select the mode by manual switch. DUSK TO DAWN SENSOR :The Nightlight Built-in Smart Sensor;Automatically Turn Itself on at Dusk and off at Dawn(Under Maunal Switch Turn on Mode). Ideal Night Light for Living room;Stairway;Bedroom;Work shop;Storage room;etc. DUAL USB CHARGER PORT :The Plug in Night Light Get Dual USB Port Charger Make You Convinient Charging Your Phones or Other USB Device.1A Output for Dual Port Charging. LIGHTWEIGHT &SMALL SIZE :Semicircle shape design and compact size make it don t block the second outlet on the wall. Specification: - Sensor Type: Light Sensor - Voltage: AC220V - Operating Frequency: 50/60 Hz - Power Consumption: 1W(MAX) - Light Color: Daylight White - Material: PVC - Dimension: 60*50*43(mm) - Package size: 64*53*45(mm) Keyword/Tag: #light#lamp#bulb#LED#ESL#CFL#lights#lamps#bulbs#lantern#candle#lanterns#candles#lighting#lighter #night#sensor#smart#light control#light sensor#auto on#auto off#usb#usb charger#phone#phone charger#automatic#touch#waterproof#durable#sol...
Product details:
Product Code - HOMSMART-LAMP-WSHIN5930162ED24C8B
Power Requirement - AC220V
Size (Inch) - 2.36*1.97*1.57 inch
Color - White
Type - Night Lamps
Material - ABS
Disclaimer - Product color may slightly vary due to photographic lighting sources or your monitor settings
International Product - World Store
Return Policy - 7 Days Return Policy - Return is accepted by the seller within 7 days of delivery, only if goods are damaged. In case of wrong, missing or undelivered product, please highlight the issue within the 2 days of delivery. Cancellation not allowed - Cancellation for this product is not allowed as this involves international shipment