Subscribe to our daily Deal Alerts on your WhatsApp.
Find exclusive deals, coupons and offers
Get a chance to win Rs.250 worth gift voucher every week (*conditions apply)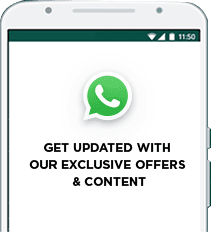 Join our WhatsApp group by following these three easy steps
Step-1
Add 919398804063 to your contacts as Tracedeals Deals
Step-2
Go to your WhatsApp, Refresh your contact list and select Tracedeals Deals
Step-3
Send Start message to the Tracedeals Deals Contact. You will soon get a confirmation message.
(OR)
Signup to start getting daily newsletters, deal alerts and promotions.
Exclusive deals, offers and promotions are available only after Signup.